Registered User
Join Date: Mar 2004
Location: Northern Utah
Posts: 3,512
Mentioned: 0 Post(s)
Tagged: 0 Thread(s)
Quoted: 0 Post(s)
Monte Cristo area, Utah, 01/27/12
---
Finally got to go out for a real ride this year. Put on just over 72 miles in 6 hours - mostly playing and enjoying the scenery. It was a beautiful (typical) Utah day...
We did about 10 miles of busting trail, where you could just see where the groomer had been, but it had drifted over with about 18" of new show from the previous night. It was like floating on a cloud!!! Total was over 5 feet, and stepping off the sled quickly reminded us of that fact. It was past our waists, and you couldn't touch ground.
I took lots of video, including one where I tipped over a little too much when carving, and I fell off. The video looks hilarious, but I need to do some editing and get them a little smaller. Right now they're full 1080p...
---
2004 Polaris Trail RMK 136
1997 Ski Doo Summit 500
2000 Arctic Cat ZL550 ESR (in NY)
2000 Arctic Cat 440 Panther (sold)
1980 Arctic Cat Jag 3000 F/C (in NY)
"If it ain't broke, take it apart and find out why!"
Registered User
Join Date: Dec 2010
Location: New Hampshire
Posts: 429
Mentioned: 0 Post(s)
Tagged: 0 Thread(s)
Quoted: 0 Post(s)
UBER jealous.....Dont be so selfish and send a couple feet my way, lol. We have NOTHING to ride on here in NH. Looks like a great day
---
02' XCSP 600 EDGE-X with M-10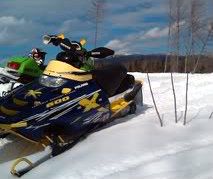 Registered User
Join Date: Apr 2009
Location: Sweden
Posts: 517
Mentioned: 0 Post(s)
Tagged: 0 Thread(s)
Quoted: 0 Post(s)
Beautiful
And it's so nice to see sunshine, we have woken up to grey skies (and often snow fall) basically every day for the last 2 months here ...
---
My Homepage :
Motorsports Pics, mostly from northern Sweden
My Sleds :
1990 Arctic Cat Jag 440 AFS / 2002 Arctic Cat Mountain Cat 600 EFI
I am Spartacus
Join Date: Feb 2004
Location: Milton Mills, NH
Posts: 23,862
Mentioned: 0 Post(s)
Tagged: 0 Thread(s)
Quoted: 1 Post(s)
God's country for sure!
---
1992 Ski Doo Mach 1 (SC-10/2 suspended) March '07 SF.com Sled of the Month! (Lost in fire 4-7-13)
2009 Ski Doo MXZ 500SS TnT
2006 Ski Doo MXZ 500SS
1999 Ski Doo MXZ600
Webmaster Evergreen Valley Snowmobile Club
SledNH.com Moderator