Evolution of Snowmobile Front Suspensions
---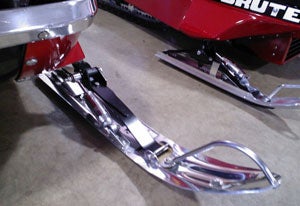 Vintage riders know just how far snowmobiling has come with front suspension comfort and how it affects handling and safety. Snowmobiles from the leaf spring era, which was pretty much from the beginning right up to the 2011 Yamaha Bravo, relied on a variety of front suspension technologies that really didn't change much over the decades. When Polaris first adopted the trailing arm independent front suspension (IFS) for what would become the most popular line of sleds in snowmobile history, the leaf spring remained relevant in every snowmobile line of the period. Where the leaf spring design had become a staple, alternative suspension concepts were unsettled.
More:
Evolution of Snowmobile Front Suspensions
on Snowmobile.com
Registered User
Join Date: May 2012
Posts: 174
Mentioned: 0 Post(s)
Tagged: 0 Thread(s)
Quoted: 0 Post(s)
Those skis look good nothing better then a sweet 73 rupp magnum ski

My ZR is faster then your ZR
Registered User
Join Date: Oct 2012
Location: pennsylvania
Posts: 10
Mentioned: 0 Post(s)
Tagged: 0 Thread(s)
Quoted: 0 Post(s)
That's pretty much what my78 kawie intruder has....
all sleds R great!!!!
Join Date: Feb 2011
Location: Toronto
Posts: 342
Mentioned: 0 Post(s)
Tagged: 0 Thread(s)
Quoted: 5 Post(s)
i remember early 70's RUPP's had leaf spring with a shock on the side, my 73 ski doo TNT silver Bullet had leaf springs with the shock on top....i thought that was ahead of it's time back then! my buddies all had ski doo olympique's with no shock and the ski's would flop all over the place...plus when 2 people sat on the Olympique's the ski's barely touched the ground,lol .....ahh the good ole days!
Posting Rules

You may not post new threads

You may post replies

You may not post attachments

You may not edit your posts

---

HTML code is Off

---