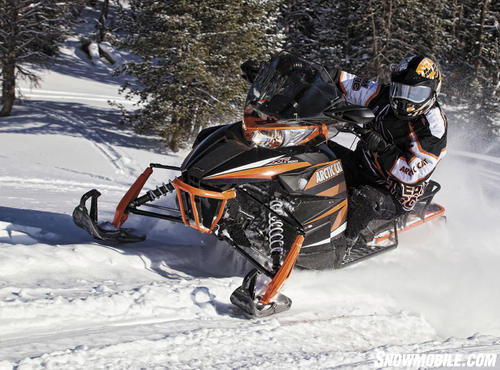 For model year 2013, Arctic Cat is all about building on what we saw last season and adding a couple of new models and some interesting wrinkles to build on this past season's successes.
A new model, Arctic Cat's 2013 Cross Tour counters Polaris' Adventure. Based on the XF "mid-length" chassis, the Cross Tour features a 141-inch track that can be powered by the turbocharged four-stroke, the normally aspirated 1100 four-stroke or the popular 800cc two-stroke option. The Cross Tour may seem to be a duded-up crossover with all the goodies electric start, bags, cargo rack, mirrors, and high windshield but in can be transformed from solo sport cruiser to touring duty by simply adding an extra seating option.
Springing forth from the XF model line is a backcountry marauder, the High Country and High Country Limited. This XF derivative will only come with a choice of the turbo or 800 engines. It parts with the XF trail orientation and draws upon "M" features. Its ProClimb derived chassis is the same length as the ProCross but you'll note it spins a 141-inch track with off-trail 2.25-inch tall grippers. It'll have the trail preferred 42-inch ski stance and full length cooling extrusions.
More:
2013 Arctic Cat Snowmobile Lineup Unveiled
on Snowmobile.com