Registered User
Join Date: Jan 2009
Location: East Syracuse
Posts: 3
Mentioned: 0 Post(s)
Tagged: 0 Thread(s)
Quoted: 0 Post(s)
Just bought a 93 550 EXT EFI!
---
I just picked up a 1993 Arctic Cat 550 EXT EFI. I called on it in the paper. Talked to the guy and he told me the following: has 135psi compression per cylinder, has spark, will run if you throw fuel in cylinders, and only has 2200 miles on it. Talked the guy down to $500 and put it on the trailer. Crossed my fingers all the way home. Arrived home and took the fuel rail apart to see if i had any fuel coming out. Had fuel coming to the rail. So i pull the injectors thinking they are clogged. they looked clean. I tapped one out on the bench pretty hard thinking there maybe some stuff in them. I found nothing. I put the injector back in the sled and held the rail with injectors in air and had a friend pull over the sled. the injector i hit was putting fuel out at a pulse. Excited I did this to the other injector. What do ya know!! It now runs!!!
. Okay so i put some new plugs in and ran it for ten minutes. Pulling the plugs they are golden brown. (that good?). So my question to you guys now. I can start the sled and it idles at ~800. I have to feather the gas to get it to 2500 rpm. After I get it past 2500rpm its amazing! WOT everything, runs great. So far it hasn't given me a problem coming up to rpms to move. clutches work great also are pretty clean. what could be a cause of this problem? Also would like to change the chain case oil. what does it take and where could I find capacity? here are some pics for you guys... and a vid or two... i can get one later of what it does when i have to feather the gas. any input is greatly appreciated. I was thinking injectors were stuck closed and gummed up. replacement of injectors maybe?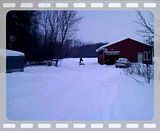 Enjoy!
---
1993 Arctic Cat 550 EXT EFI
Super Moderator
Join Date: Feb 2005
Location: NY
Posts: 34,103
Mentioned: 0 Post(s)
Tagged: 0 Thread(s)
Quoted: 3 Post(s)
If the injectors work, no need to replace them.
Add 4 oz of Seafoam to a full tank of gas, this will help to keep them clean.

If you look at the ECU box, on the right edge facing the engine, you will see a port with an LED behind it.
When you turn on the key, this should flash once as it completes it's self diagnostic.
If it flashes more than once, count the number and duration as that is a trouble code.
It will tell you what component may have a short or bad connection.

If you look at where the throttle cable connects to the fuel rail, you will see a small screw. That is the throttle stop, turn it in to raise the idle rpm to about 1800.

You will have to remove the battery, exhaust, and silencer to get to the chain case.
If you are going to drain it, you should also open it and inspect the chain.
There is a drain plug inside the tunnel just below the drive shaft and the filler is under the battery. It takes 6oz of oil. You can use ATF.
---
Old Cat Rider
'93 Wildcat 700EFI
w/ Comet 108 Pro-4 clutch & 01 ZR skid
http://www.dcdrifters.net/
Past Master; F&AM Dryden Lodge# 472
http://www.masonicdryden472.org/
Rules of this forum are strictly enforced!